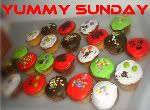 Finally, my Hubby and I were able to go out on a date last week. We went to Bigby's Cafe in Lim Ket Kai and this is what we had. Yum!
I had this, it's called something like Bruscetti de Rosa ( not sure of the name )
while my Hubby had beef. Oh, I'm so bad with remembering the names of the dishes , so please forgive me..heheh!
Anyways, the food in Bigby's Cafe is nice. They have other dishes that I want to try out too. Maybe, on our next date with HUbby. But, I have to find someone to take care of our kids first. Any volunteers??? hehehe!